As a child, singing at summer camp was such a powerful experience of joy and unity,
it interested me in the power of music.
Wendy Zieve grew up in Milwaukee, Wisconsin and learned about music therapy at a career day in high school.  She received her bachelor's degree in Music Therapy at Michigan State and her masters at Lesley University in Boston.  A certified music education teacher, she has taught in elementary schools and preschools for over 15 years.  Wendy provides music therapy to address a variety of needs, including illness, dementia, Down syndrome, autism and physical disabilities.  She also teaches college level courses in Music Therapy to other educators.  Wendy lives with her family in Seattle, Washington.
Wendy, thank you for joining Healing Hamlet!  What first drew you to music and to the field of music therapy?
 As a child, singing at summer camp was such a powerful experience of joy and unity, it interested me in the power of music.  I played piano while growing up in Wisconsin and heard about music therapy at a Careers Day at my high school. I had done some volunteer work with developmentally delayed children, and it seemed a great way to integrate my interests.
Can you tell us more about music therapy and its purpose?
Music therapy is an established health profession in which music is used within a therapeutic relationship to address the physical, emotional, cognitive, and social needs of individuals. By creating, singing, moving, or listening to music, a range of abilities in each client is brought into focus. There are over 80 U.S. colleges that offer degrees in music therapy, and many do research on the benefits of music therapy for autism, stroke patients, mental illness, dementia, and other medical issues.
What sort of responses have you witnessed during music therapy sessions with students or clients?
I provide music therapy to several adult family homes serving seniors with dementia, where I use music to engage the residents socially, expressively, mentally and physically. Very often persons who have lost speech perk up and sing, or will get out of their chairs to dance.
I also work in respite care, private practice and school settings with individuals who have autism.
Music is often a preferred activity and a strength for persons with autistic spectrum disorders. In some cases they can answer questions and follow directions when they are sung but not when they are spoken. It is because music is processed in the brain in pathways that are different than speech.
The purpose of music therapy is to provide healing and therapeutic treatment for a variety of conditions. As a therapist, do you find the process of music therapy to be healing and therapeutic for yourself?
I always find that making music in a group is an instant way to connect, socially interact, and to feel whole.
You also teach music to preschoolers. How does teaching small children differ from providing music therapy to the elderly and disabled? How is it the same?
Early childhood is such an important time in every area of development – and a music class is a perfect time to foster social skills, emotional identification and regulation, fine and gross motor skills and listening skills. These developmental goals are sometimes the remedial goals that clients who have impairments are working on, although highly individualized in their treatment plans.
Where would you like to see the field of music therapy in the future?
Undoubtedly the research that is being done will propel the field forward – with the most exciting findings in rehabilitation and neurology, such as recovery from stroke and speech disorders. Representative Gabby Giffords in her recovery from bullet wounds, regained her speech by singing first with a music therapist who was trained in Melodic Intonation Therapy.
Increasingly across the country, insurance is covering music therapy with a doctor's referral. Music therapy should be provided in all settings for people with developmental disabilities, autism, in rehab, in cancer wards, hospice, dementia and mental health.
Unfortunately, the state of Washington is decades behind the rest of the country in recognizing the profession of music therapy and providing access to services. An entire state recognition plan is underway involving legislation.  Then funding for services will be another hurdle.  The very first degree program is new at Seattle Pacific University, which will help to spread awareness through the student practicums.
Anything else we should know about music therapy?
There are many people calling themselves music therapists who are not board certified. This has led to lots of confusion with sound healing and bedside harpists.  There is a rigorous curriculum that must completed at an accredited university, plus practicums, plus a 1200 hour internship, and then one must pass a board certification exam to get the title of MT-BC (Music Therapist – Board Certified). That is the gold standard that I wish employers were aware of.
What music and musicians do you find healing or inspiring?
My personal favorite type of music is jazz, and swing.  For pain management, I listen to chanting form spiritual traditions – Buddhist/Hindu/Sufi.
In studies related to pain management, anything under the sun can be used as long as it works for that patient. What is relaxing for one might agitate another, so whatever works for the individual.  In working with clients I've needed to know Christian hymns, Greek music, songs from the 1920′s, Hawaiian, Rock and Roll, Country, – you name it.
Wendy, thank you for sharing your knowledge about music therapy and for being an advocate for this field of healing.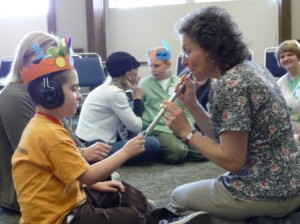 To learn more about Music Therapy visit: The American Music Therapy Association, The Music Therapy Association of Washington and The Certification Board for Music Therapists
Keep up with Wendy on her website.