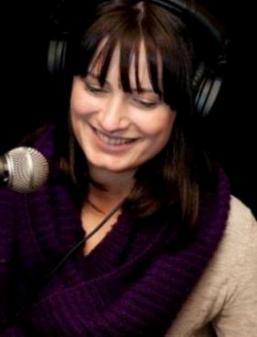 It wasn't so much that I decided one day to be a musician, as that I realized over time that I could never not be a musician. I have other passions in life that at times take the front seat, but music will always be there, waiting to evolve into what's next.
As far back as she can remember Tamara Power-Drutis was performing.  Growing up in the eastern Washington town of Cheney with 2 older brothers, Tamara was drawn to the stage at an early age.  Immersed in school choirs, vocal competitions and musical theater, there was never a time when she wasn't singing.  Her talent earned her a scholarship to study vocal performance at Pacific Lutheran University where she also received a degree in Political Science.  When not performing or recording, Tamara works as the Communications Coordinator at the Center on Reinventing Public Education and as a vocal coach at the Seattle School of Music.  She also serves on the board of the Young Professionals International Network.  Tamara's love of music and a deep curiosity in the world around her have inspired and influenced her music projects, including her latest album, Pacificana, which releases on April 24.
Tamara, thank you for talking with Healing Hamlet!  You describe yourself as a world traveler.  Where have you visited?  What brought you to these places and how have your travels influenced your life?
I grew up with stories from my mom of her travels through southern Africain the Peace Corps, so while at PLU I took every opportunity to study abroad. As an undergrad I received a grant to be a research assistant in Lesotho, studied the politics of social change in Namibia and South Africa, and learned about eco-tourism in Costa Rica.  Outside of academia I traveled to Japan for the 64th anniversary of the bombings of Hiroshima and Nagasaki, Fiji for scuba diver training, Mexico for building houses, Ireland and the UK for Irish traditional music,  Panama for laying in a hammock, and Peru for traveling the "gringo trail." I've come to believe it's impossible to understand or truly appreciate your own culture until you've visited others. Wherever I go I am struck by the beauty, the aromas, the flavors, the rhythm, and the kindness — but also by how happy I am to return to Seattle at the end. I gain perspective, I find inspiration, and for the most part I get to take a step back from my limited view and realize how very small I am.
Your music background includes classical, musical theater, folk, and Irish traditional music.  What was your earliest memory with music and how did your musical journey evolve from there?  Was there a moment when you knew you would pursue a career in music?
My parents joke that I came out of the womb singing, but my earliest memory is of the musical movie Annie. My oldest friend, Anna, and I used to watch Annie once or twice a day and sing at the top of our lungs (my poor older brothers). From then I've had an insatiable hunger for music and performance that I can't shake to this day. In grade school I began singing in my first choir and tried out for my first musical.  I started taking voice lessons and show choir in middle school and began competing in vocal competitions and singing in state and regional choirs in high school.  Then I headed off to study vocal performance at Pacific Lutheran University. But after my first year in college, my trajectory shifted.  Rather than continuing down the classical route toward opera, I joined the A Capella choir and started singing in open mics. Graduation brought an end to any structure in my musical education, so I put more energy into songwriting and performance and began teaching voice lessons myself. It wasn't so much that I decided one day to be a musician, as that I realized over time that I could never not be a musician. I have other passions in life that at times take the front seat, but music will always be there, waiting to evolve into what's next.
Do you play any instruments?
I'm primarily a vocalist, however I also play guitar, ukulele, and a bit of piano (though I mainly use piano in teaching now days).
You are a performer, singer, song writer and recording artist.  Which aspects of these are most fulfilling?  What do you find is the most challenging?
If I could only do one thing every day for the rest of my life, I would pick recording. There's so much magic in developing a song, bringing on musicians, arranging, and seeing it come to life. Although nothing can quite match the excitement of singing in-front of a packed audience backed by a rock orchestra, the creative energy and focus in studio fulfills a deeper desire to create something lasting and wider-reaching.
My greatest challenge is around marketing my work. It's a difficult but necessary part of being a musician.
As well as performing, writing and recording, you teach voice lessons at the Seattle School of Music.  What is the best advice you give your students?  What is the most important thing they've taught you?
As with most skills, the most important component of singing is confidence. You're better off singing the wrong notes and garbled lyrics with a bold confidence that says "that's right, I meant to do that" than to sing pitch perfect so timidly that no one will ever hear you. I went to a concert recently where the artist's music was unimpressive and vocal quality below average, but he owned the stage when he walked out and captivated me with his confidence.  My students have taught me that raw talent can only take you so far. The best vocalists I've worked with or known have had to work hard to get there and train continuously. Some of the most naturally talented people come to rely on those natural abilities and don't develop the same work ethic or practice habit which enable greatness.
You have collaborated with song-writer/producer Dennis Magee Fallon, The Warm Hardies, Phinney Estate and the Seattle Rock Orchestra.  What can you tell us about these opportunities?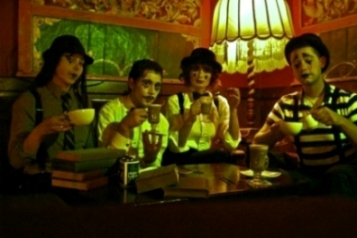 Dennis worked with me when I was first experimenting with my own music and creating my first album. He produced the album, but played more of an artist developer in that time period. He continues to be a great sounding board for my endeavors.  The Warm Hardies was my first full band project, so was a great learning experience for what to do — and also what not to do — in band management. We had a lot of fun though, and made a great little EP that I'm still proud of.  Phinney Estate (Rhythm Rose Turner, Robert Power-Drutis, Royal Morris, and Shaunessey Fischer Scott) has been a fun experiment in only playing music I love, when I feel like playing it, and with whom I feel like playing it with. Burn it to the Ground, the EP that came out of that undertaking, was the most fulfilling music I had made up until that point (something I hope to say of every recording project in the future). We came into London Bridge Studio and just played around and enjoyed ourselves and our company without thought to market, audience, or expectation. And the final product was all the better for it. I like to think you can hear that we're happy in the recording.
As strange as it may sound, I believe that the Seattle Rock Orchestra concept is the future of classical music. The National Endowment of the Arts continues to find that attendance in the classical arts is dropping. Sure, part of that was due to the recession, but ticket sales should have recovered by now. Instead, for whatever reason, society is less interested, and those concerts, orchestras and symphonies are suffering because of it. Yet Seattle Rock Orchestra and its army of talented classical musicians and rock singers are packing the Moore and the Neptune all for the love of music. It's time for traditional orchestras to evolve, and I think SRO offers a promising option.  I love being a part of this group as it makes the transition into a non-profit and grows from one musician's dream into a self sustaining organization. As a student studying classical music, I would have loved to have gone to these concerts and gained the answer to the question we all asked: "what can I do with a degree in music performance?" As a teenager I would have killed to be a part of the Seattle Rock Orchestra Summer Intensive.  If I had a million dollars I would invest it all in SRO. But since I don't (and am still working on paying off my student loans), I'm thrilled to offer my talents in whatever way SRO most needs; be it as a soloist in a concert or recording, a member of the choir (which is currently recruiting), or volunteering at a show or event.
At the end of last year, musical artist, Beck, released a never recorded album of sheet music titled Song Reader. The Seattle Rock Orchestra, with your smooth sounding voice, produced an enchanting version of Old Shanghai.  What was it like to breathe life into the sheet music, record the song and film the video?  
We all loved the Song Reader concept and the thought process behind it. My brother, Rob, and I grew up learning songs out of music books rather than online or listening to a recording. It felt like childhood again to create what you want from sheet music without reference to how another artist had done it. Recording was an adventure at the Columbia City Theater. Scott Teske, Katie Mosehauer, and Ian Williams were whispering advice into my headphones like, "you can be more flirtatious with the melody lines," "give it that wistful affection for a place," or "that was great, now do it totally different."  Working with Vincenzo Frattarola and Ian Williams on the video was uncomfortable in the best possible way. I've never done a music video before, so it was strange to be the forced center of attention. But I've got to say, it was a real pleasure to walk in the lobby at the start of the scene with an honor guard of string players. I wish that happened in every room I walk into.
How does it feel to have your voice backed by an entire orchestra?  
Better than sex.
Will this video bring back the boa?
Naturally. We just need about a million more views on YouTube and then I'm sure the trend will take off.
You have a new album, Pacificana, releasing this month.  What can you tell us about it?
For the past few years I've wanted to explore and rewrite old public domain music, and this year I received a grant from the Seattle Office of Arts and Cultural Affairs to do just that! I've been working with talented artists such as Ian Williams, Emily Westman, Scott Teske, Natalie Hall, Annie Jantzer, my brother Rob, and the unbelievably multi-talented producer Katie Mosehauer to reinvent six early Northwest Americana tunes. I made an effort in song selection to create a picture of early Northwest culture at that time; the values of the pioneers, the politics and stigma between nation groups, the strains on relationships, the role of religion, and so on. There's a musical component of this project, in taking songs that haven't been sung or played much– if at all in the last century– and arranging them in a way that is engaging to our modern ears. But there's also an element of historical context; of telling a story of our Northwest heritage.
Anything else we should know about you?
I love marionberry pie.
Don't miss the release of Pacificana, songs of early Northwest heritage, 7:30 on April 24th, at the Chapel at the Good Shepherd Center in Seattle.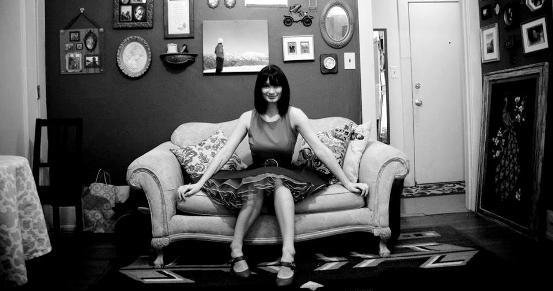 Listen to Tamara's Music on her website.
You can find Tamara Power-Drutis on Reverbnation, Cdbaby, Ourstage and Facebook.
A sampling of Tamara's songs: