You can surround it with bigger venues, flashier lights, cars, and other wonderful things, but when all is said and done, all that matters is the music and the time you got to spend with your buddies performing it for anyone that cared enough to listen.
A self taught musician, Dylan Fant, can't remember a time when his life wasn't about music.  He had amassed an impressive cassette (remember those?) and CD collection before he even picked up his first set of drumsticks at age 14.  After mastering the drums, he went on to learn guitar, bass, piano, mandolin, banjo and lap steel.  He has written and recorded several songs where he plays every instrument and invites guests to sing vocals.  This collaboration has allowed him to meet and work with a number of gifted singers.  Over ten years ago he formed the band, J Minus, with other talented musicians in the Seattle area.  Shortly afterwards, he started his own recording studio, 1 Shot Studio in Woodinville.  When he's not producing songs with J Minus or recording at 1 Shot, Dylan is still hard at work creating music in side projects, such as Trading Voices.  Healing Hamlet was able to catch Dylan in a rare free moment to talk about his life in music.
Your long list of titles includes musician, songwriter, recording artist and producer.  Your band is called J Minus.  Who is J Minus?  When and how did this band come together?
J Minus is a project that I started back in 02. It was originally just a side project for me, so I could write and produce my own songs while I was drumming for other artists. It became much more after I wrote a particular song called After Midnight.  That's a long story…you can read it in more detail at my blog.  Now, it is a group of four members (myself, Trevor Wheetman, Chris Mongillo, and Myer Harrell) that bring it to life…although it seems it's now ready to return to where it began.  One of the members is moving to Nashville and the live side of the project will be put on hold. There are chances that we may meet up for some shows here and there, but for the most part it will be returning to a studio project. I can promise at least 1 more album.
In your band bio, titled "Sideways to the Top", you describe your band's work as "worthwhile in and of itself", with the mission to "move listeners to laughter and tears with music".  What have you learned over the last ten years about making a difference in the music world, staying true to your muse and how to measure success?
I have definitely learned a lot during my time with music. I guess the main thing that I stress to the artists I work with today is to just be themselves. Don't worry about what's going on around you in the industry. Just do you, it's the only way you'll ever be happy with your work and feel the wonderful feeling of expressing yourself. Nothing beats it. You'll never be able to figure out what other people want to hear, so don't worry about it. Make something that you want to hear and be proud to share it with whoever wants to listen.
Before J Minus there were other bands and musical endeavors.  Did you always know you wanted a life in music?  What was your journey to get to where you are now?  Who provided inspiration along the way?
I was in a couple projects before I created J Minus. They were the reason I created it though. I wanted something of my own that couldn't be taken away from me if I grew apart from the other musicians involved, like I had in the past. I was sick of starting over.
In 2003, you officially launched your own recording studio, 1 Shot Studio.  How do you find running your own business in the music industry?
Running the studio is almost as fun as getting to be the artist yourself. I don't get to spend very much time on my own songs anymore, but I still get endless enjoyment working with and helping all these new artists get their music going. I guide them the best I can using the knowledge that I've gained. I give them all everything I've got with hopes that they will follow their dreams and be as happy as I am today.
In 2008 you began Trading Voices, a project featuring different female vocalists and supported by local musicians.  Where did the concept for this project originate?  Did you write and produce all of the songs?  What else can you tell us about Trading Voices and the talent involved?
Trading Voices was started because I had a bunch of songs that I love already written for a female vocalist. In 2006, J Minus actually did have a female vocalist in the band, so I was in that mode. It didn't work out with her, but I didn't want to just trash the songs. I held on to them for awhile and eventually just started another project with them. It's been on hold for awhile because of life and work in the studio, but I've been gearing up on bringing it back to life and making it my main focus outside of the studio.
You have produced your own music videos, such as Congratulations You Suck.  Claymation and pyrotechnics!  Is making music videos as fun as it looks?
Yes, it is as fun as it looks!….at least for me it is. I love things that take a lot of time and patience to figure out. I worked on that video for 4 months without ever having any background in videography. I am very proud of outcome and proudly display the clay figures in the studio.
In what ways has your family been creative and supportive?
My family is extremely creative and artistic. My mom was a professional artist when I was a child and my dad does cabinetry, but he's always been very inventive with how he does things. They have supported me 100% on my journey and there's no way I would be where I am today without their never ending support.
Any hobbies or interests outside of music?
I've made my living playing, recording, and producing music for the last 11 years. I don't really have time for other interests and hobbies because the path that I have chosen takes up all my time just to survive and grow the way that I want to.
What other artists have you worked with and what people/artists have inspired you?
There are many that have come and gone over the years. I feel like a get a lot of inspiration from the artists I've worked with, more so than anyone famous. I get to work with people in the studio that are just trying to find themselves, not fit into a mold and sell records…at least most of the time. Artists that are still chasing their dreams.
If you could record with any artists (dead or alive) who would they be?
I just don't think in those terms for some reason. I really like the natural flow of meeting new people and seeing what happens. If I don't know someone, I don't know if I'd care to work with them. It's all about personality match for me.
Given unlimited resources and musical talent, what would your dream project be?
I've really already done it. I would have liked to tour out further with these guys if we had the money and resources to do so, but it just wasn't in the cards. Ultimately though, I got to watch my own personal music come to life and play it with 3 other guys that I consider some of my closest friends. You can surround it with bigger venues, flashier lights, cars, and other wonderful things, but when all is said and done, all that matters is the music and the time you got to spend with your buddies performing it for anyone that cared enough to listen.
What's the best way for us to keep up with your next projects?
Facebook is where I actually do updates nowadays.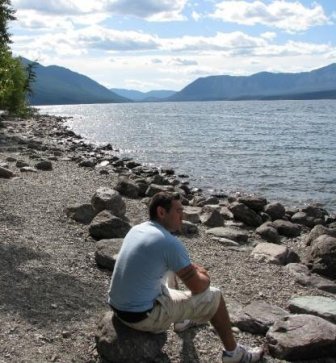 Keep up with Dylan Fant on Facebook for J Minus and Trading Voices.
Listen to J Minus on their website or Reverbnation.
Listen to Trading Voices on Reverbnation.
Learn more about 1 Shot Studio.
A Sampling of Dylan Fant's Music: