I approach my music as if it is my only option. A lot of the time, I truly believe it is. Music makes people happy! I love making people happy! Just getting some sort of idea or message out there is really something. In the end, it is the bigger picture that drives me. I just want to make some sort of mark. I don't care how important or relevant it is. I don't care if it is understood or embraced. I guess I just want to leave something behind.
John Thornburg and his brother Russ, along with neighborhood friend Alex Addams, formed the band JAR in 2007 when they were only 14 and 10 years of age. JAR's founding brothers were raised outside of Seattle, Washington by two music enthusiast parents who recognized and supported their talents at an early age. Their father, Doug Thornburg, a fire fighter, and their mother, Colleen Thornburg, a vocational specialist, ensured their sons received music training and got to their gigs on time. Fast forward to 2013 and the band, now christened JAR of Rain, and with the talent of bassist Julio Posada replacing Alex Addams, has established a loyal following in the Seattle area and is emerging into the broader Alternative Rock scene with the release of their first professionally recorded album, Humans. John Thornburg agreed to talk about the journey with Healing Hamlet.
John, thanks for speaking with Healing Hamlet! Is the band officially JAR or Jar of Rain?
Good question! This subject is quite hazy for everyone. By law, we are officially Jar of Rain, but we do tend to go by JAR for short because it sticks better.
At the age of 14, you formed JAR with your younger brother, Russ, and neighborhood friend, Alex Addams. When did you first know that music was your passion?
I can't remember a time when I wasn't completely obsessed with music. My parents tell me that I became strangely fixated with Jim Morrison of The Doors at the age of 2. I would learn all of the lyrics and scream them at the top of my lungs in private and in public, which was kind of funny because a lot of their lyrics tend to be quite vivid and controversial! The pivotal circumstance for me was seeing my first arena rock show. It was August of 2004 and Incubus was headlining at the Key Arena. I had this cathartic felling of "Wow…I am not going to be satisfied until I am up on that stage". I still feel that same magnetic feeling today.
You play guitar as well as drums. Were drums your first instrument? Any other instruments you play?
Well, I don't really consider myself much of a guitar player, but thank you non-the-less! I write a lot of music on the guitar but I am not 100% comfortable with my ability yet. I have played acoustic guitar in our sets for awhile now and it has always been a goal of mine to strike up the confidence and play electric guitar on stage! Drums were my first official instrument, yes. For many years, I took drum and vocal lessons from Steve and Kristy Smith of The Seattle Drum School. From time to time, I train my voice with instruction from Susan Carr. I can fake the bass guitar. I have written on the piano as well.
You write most of the band's lyrics. Where do they come from?
It's very hard to say most of the time. Despite how most people see me, I am extremely shy. I tend to keep to myself a lot. My emotions are kept very close to me and often go unexpressed. I always like to think that my lyrics are my way of saying what I am too afraid to say in real life. Usually they are uncensored and even sometimes uncomfortable for me to sing. Many people don't seem to understand that. Therefore, I take my writing and our songs extremely seriously.
You and your brother, Russ, have grown up sharing the same passion and are now reaching milestones together. How would you describe your relationship?
Oh man he is such a jerk! Ha ha…Our relationship is great. We never ever argue when it comes to music. We have what I like to call "passionate discussions". Both of us want to create something beautiful or exciting, but sometimes bringing an idea to a final destination is tough. I have come to find that we really complement each other, almost like checks and balances in the government. I don't let him get carried away, and he makes sure that I am brave enough to try new things.
Julio Posada replaced Alex Addams as the bassist for Jar of Rain. How did that come about?
Back in 2009, right around the time I decided to take a break from playing music, I was invited to host a weekly jam night at Oddfellows Bar and Grill in Redmond. This opportunity couldn't have come at a better time in my life. The jam night allowed Russ and I to play music on a regular basis and because of the occasional poor attendance, we were able to experiment with some of our new material in front of an audience. This is when I decided to try singing for the first time. Week in and week out, jammers would come and go. This is when our good friend, Julio Posada, began to show up at the jams. Julio was the only jammer that came out every single week! At the time, Julio had been playing the bass for a tender month or so and was extremely shy to get up and perform. His attendance consistency surprised us. When the jam nights came to an end, Russ and I were once again left without a musical project. We wanted to put a band together with me as the lead singer, but we needed a bass player that fit. We began to try out musicians. Everyone we tried out was very talented, but didn't fit in with the vision we had. Then it hit us… Julio Posada!
I had always been drawn to Julio because of his personality. That is exactly what Russ and I were looking for. A band member with an amazing amount of heart. A band member who we felt close to. A band member who was kind natured and willing to try new things. Everything pointed to Julio. Once we brought him into the band, his bass playing grew with leaps and bounds.
How would you describe the dynamics of your band? How does each member contribute toward the final result?
It is an absolute blessing that I can be in a band with my brother, and one of my dearest friends. Russ and I have been writing together for several years now. Julio is such a joy to work with that I almost can't describe it. Usually Russ will have a riff idea. Then Julio comes in with his very unique style of bass playing and anchors the song. Then I finish things out with my lyrics and vocal melodies. Sometimes I help with arranging ideas and chords. It is usually very hard for me to put into words what I hear in my head, so I will usually sing a progression or an idea, then Russ plays it exactly how I imagined it.
Last spring, Jar of Rain produced its first professionally recorded album, Humans. How did this come about?
We all thought that it was time to really dig in and strive to make a professionally engineered and mastered record. At the time, we were at our 2 year mark in the band. To me, Humans represents JAR in its earliest stage. I think it is a good snapshot of where we were at the time as musicians and people.
What local opportunities are there for teens trying to find their voice in the business?
The Seattle scene is absolutely teeming with incredible musicians and supporters. That is why me and my good friend, Sawyer Thompson of Fringe Shift are starting an internet talk show called Line In – An Interactive View into the Hearts and Minds of Local Musicians. We are hoping that this will help strengthen the relationships between bands in the greater Seattle area. I think there will always be amazing opportunities for teens in the business! There are many great showcases and competitions held by venues like The Redmond Fire House, KTUB, The Lab, Studio Seven and The Crocodile!
You provide an entertaining stage presence while singing lead vocals and playing drums: not an easy task. What is it like for you on stage? What stage performers do you admire?
Thank you very much! Playing a show is very physically taxing. I try hard to play the drums with the same amount of passion that I sing with and vise versa. I admire so many performers. The list is too many to mention! Sawyer Thompson and Fringe Shift. Pat Moon and Shotty. The Neighborhood Ruckus. Jeff Tweedy of Wilco, Neil Young, Bob Dylan, Billy Corgan of The Smashing Pumpkins, Adam Duritz from Counting Crows, and on and on and on…
You've worked toward your dreams since childhood. What drives you?
It is hard to say. It is what it is. I approach my music as if it is my only option. A lot of the time, I truly believe it is. Music makes people happy! I love making people happy! Just getting some sort of idea or message out there is really something. In the end, it is the bigger picture that drives me. I just want to make some sort of mark. I don't care how important or relevant it is. I don't care if it is understood or embraced. I guess I just want to leave something behind.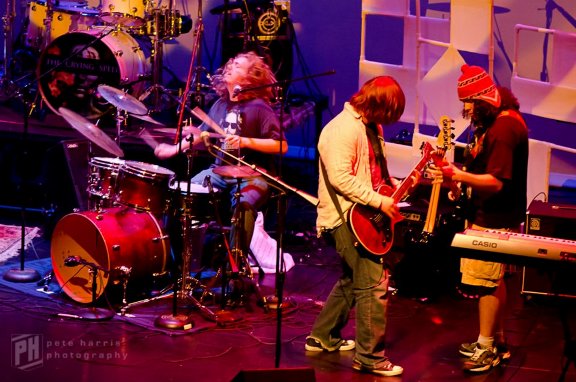 In the song Clever Lullaby, you sing "Music made me. Music saved me." Does this describe how you feel about music in your life?
Oh yes. I take a lot of solace in writing music. I think many people feel this way about art in general. Musicians and listeners can use art as a crutch. I want to make a damn crutch!
Who would you most like to play onstage with?
Jim Morrison, Jeff Buckley, Nick Drake, John Bonham, Kurt Cobain or Elliot Smith! And among the still living: Counting Crows, The Smashing Pumpkins, Wilco, Neko Case, Dave Grohl, Chocolate Genius, Incubus, Neil Young, Paul McCartney, Steven Wilson…so many …..
What do you do when you're not with JAR?
I am currently enrolled in Edmonds Community College and working as a para-ed substitute teacher in the Edmonds School District. I also teach music lessons at Spotlight Studios. My interests include music, music, eating, music, sleeping and… music!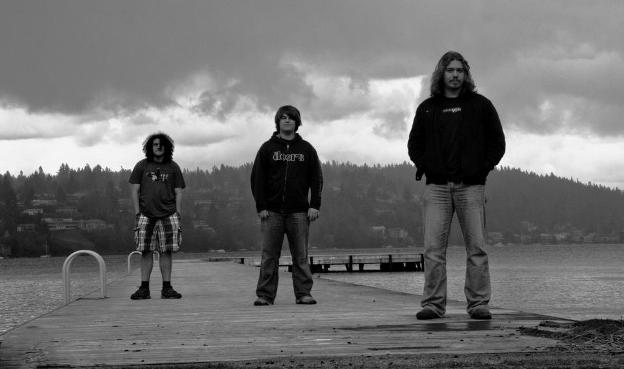 Find JAR on Facebook.
Listen to Jar of Rain on Youtube, Soundcloud and Reverbnation.
Don't miss JAR this Saturday at the Mirkwood and next Tuesday at the Nectar Lounge.
Purchase music from Jar of Rain on Itunes.