When I view my favorite works I experience wonder anew each time. How wonderful, how creative, how amazing, how incredible, that this piece has come from someone's imagination, through their mind and hands, and into reality.
Keith Maddy was raised in Pembroke, Massachusetts as the last of 7 children.  His mother's side of the family is Italian and his father was of English, Scottish and German roots.  Growing up in a working class family, Keith held various jobs since the age of 12, including paper boy, baby sitter, dish washer, bus boy, waiter, and night loader for the toy store, Child World.  After graduating high school in 1982, he attended Blackburn College in Carlinville, Illinois, as a theater major.  An international study semester in Mexico City peaked his interest in studying abroad and he transferred to the American University in London.  He worked, travelled and studied in Europe for 2 years before returning to the States.  Settling near Boston, he paid the bills working as a bike messenger while experimenting with collage making.  With a varied artistic background and a strong portfolio of collages, he applied to Massachusetts College of Art and Design and was accepted, graduating in 1994 with a BFA with distinction.
Keith Maddy currently resides in Back Bay where he enjoys spending time with family and friends.  As soon as the season allows, you can find him swimming in the ocean or at the celebrated and sacred Walden Pond.  Keith creates and teaches at Vernon Street Studios in Somerville.  He is represented by The Schoolhouse Gallery and The Drawing Project at Carroll and Sons Gallery.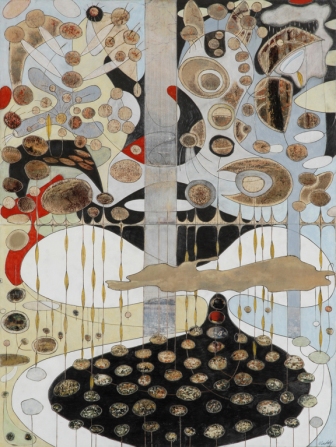 Keith, thank you for sharing your story with Healing Hamlet.  When did you first know you wanted to be an artist?
Growing up I was always very different from my siblings, a true artistic sort – very sensitive, loved to color, and played the clarinet.  I got involved in theater, both in high school and community theater (Duxbury Players). I was also very influenced and energized by the emergence of punk and new wave music – the new sounds, the clothes, the theatrics.  My favorite bands were the B-52′s, Nina Hagen, Siouxsie and the Banshees, Devo and Lene Lovich.  After London, I started making collages from magazines. My first show was at Trident Bookseller Café.  Applying to MCA was a big step in embracing it more seriously.
Not everyone who loves to create can make a living doing it. How do you make it work? What advice would you give someone who wants to be an artist?
After graduating MCA, I always had to have another source of income to pay my bills as my art income fluctuated every year. I've worked retail management, art modeling, organic farm manager, office manager and quality control supervisor with the US Census Bureau 2010. After getting layed off at the USCB, I went back to school to become a licensed Massage Therapist with the intention of doing that 1/2 time and my art 1/2 time. Being new to the field and building clientele, I currently work as a LMT full time and am in my studio part time. Not what I had planned, but in the near future I anticipate reshifting the balance more equally.  Most artists I know are in the same boat. Many artists teach in order to supplement their art income. Other artists I know work in museums or galleries. In any case, it's a long road of persistence and the belief in oneself and one's art, regardless of the perceived value of success via sales, shows and acknowledgment. There are many ways to be an artist. Follow and be true to your own path and vision.
You work primarily with collage and mixed media. How did this become your creative focus? What draws you to this form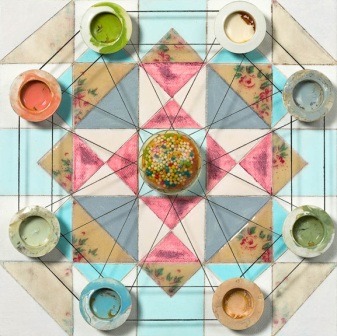 of art?
Collage was the foundation of my work and portfolio that got me into MCA. I enjoy the tactile quality of working with various materials and transforming or incorporating common materials into works of art. Vintage materials have a certain nostalgic feel and patina that I am attracted to and serve as a sounding board. I believe I've unconsciously stored colors, patterns and shapes from my childhood that I continue to draw upon.
Your pieces begin with various, often vintage, materials (textiles, wallpaper, books…), and become something separate but connected to their original elements. Where do you see yourself in the process? Is it the artist that guides the materials or the other way around?
I definitely believe I guide my materials, which I choose for texture, color, line, content, pattern and often knowing, through experience, how they will work (adhere, tear, relate).  Though they all have their own unique "essence", it is up to me to coordinate seemingly disparate elements into something harmonious, like a poem of sorts.
What is the most important thing you want to pass on to your students?
I want my students to SEE, embrace and develop their own unique style.
W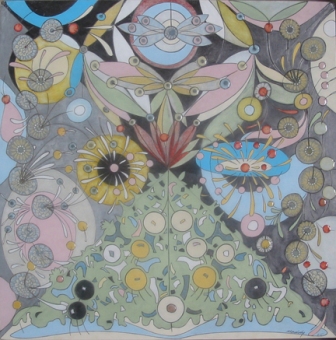 hat do you hope people experience when they view your work?
I really hope people experience joy when they view my work. It is serious work for me, but it is playful and happy work.
What do you experience when you view your favorite works or discover something new in the art world?
When I view my favorite works I experience wonder anew each time. How wonderful, how creative, how amazing, how incredible, that this piece has come from someone's imagination, through their mind and hands, and into reality.
What inspires you?
Patterns in nature: water, rain, ripples, reflections, heart beats, sun rays, sun spots…
Projects you plan or hope to do in the future?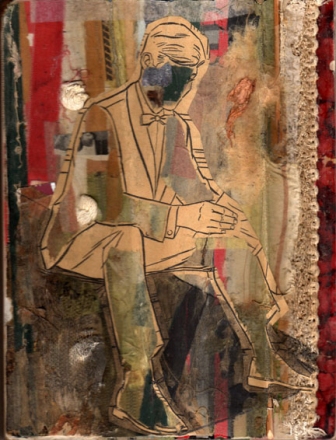 I've always switched between working very small and fairly large. I would love to work larger, much larger. I've always dreamed about creating works on billboards. Either creating a piece for a billboard or working on a billboard that was weathered and peeling.
Where would you spend your dream vacation?
Hmmm….. small tropical island, no tourists, lots of locals, fresh fish and fruits, hot sun, big white clouds, cool blue calm clear ocean, warm nights, sounds of insects.  My bucket list includes New Zealand, Portugal, Newfoundland and Iceland.
Anything else we should know about you?
I love my new career in Massage Therapy. I specifically chose it as a spiritually complimentary career path to my art work. One of the most rewarding experiences I've had since studying massage therapy was volunteering at Hebrew Rehab in Roslindale.  I would go every Sunday morning for about 2 hours to give hand massages to mostly elderly women recuperating from surgery. They loved it and what I got back was immeasurable.

Learn more about Keith Maddy on his website.
View his works at The Schoolhouse Gallery and in the Boston Drawing Project at Carroll and Sons Gallery.
Visit Keith's studio during the Somerville Vernon Street Open Studios coming up on
May 4 & 5.
Don't miss his collage workshop at the Provincetown Art Association and Museum this summer during the week of July 4th.