For all those years I used my art to earn a living, it was never just for the joy of it.  I worked for so many years doing what other people wanted me to do, it was like a slow death. So now, I don't care if my work appeals to anyone. I do the subject matter I want and experiment with various processes and media.
Artist Liana Bennett was born to a Welsh father and an Italian mother in the town of Rhyl in northern Wales.  As a small child, she immigrated with her family to Ottawa Canada in 1952, and four years later settled in Los Angeles.  Liana's artistic talents were noticed early on and she won awards during both junior high and high school.  During high school she received a scholarship for the Art Center College of Design and later earned a scholarship to attend Chouinard (now called California Institute of the Arts).
Throughout her adult life, Liana earned a living as a production artist and then as a commissioned portrait artist.  In 1983, searching for a better place to raise teen boys, she relocated to Washington state.  Two years later, she opened Arts Umbrella Studio in Bothell, where a variety of art instructors teach students from youth to adult.  Her family now raised, she is enjoying the freedom to fully explore her artistic muse.  She has been recognized as Artist of the Month by The Artist's Magazine and is represented by Matzke Fine Art Gallery on Camano Island, Washington.
Liana, you have been creating art all your life. When did you first know you wanted to be an artist?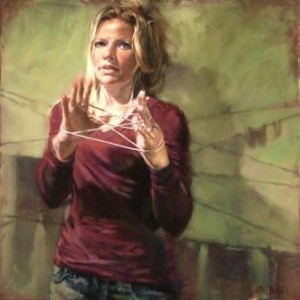 I can't remember a time that I didn't draw. It was my identity for as long as I remember. I always felt like I was on the assembly line in heaven ready to go to earth and they forgot to throw in some left brain and over-poured on the right brain. I remember going up in front of my 2nd grade class and showing everyone how to draw a rabbit. I simply was an artist and it is so much a part of who I am. I have always been in the art field and really don't know how to be anything else!
My father was artistically talented. He drew, acted, was on radio, had a beautiful singing voice (although the Welsh are known for that!) and played the piano. However, his creative soul was crushed by a tyrant father. When he found out my father was playing the piano (which was supposed to be only for his sisters) my grandfather smashed it. My father ultimately spent his life as a plasterer.
My mother was born and raised in Naples and hasn't a creative bone in her body! I inherited my father's talent for drawing and painting, and my sister and brother are extremely visual. My oldest son, Brendon, is the only one of my children to take after me as a visual artist, and he is also a writer.
How have you seen your craft evolve over the years?
I started working at 19 in a production art studio and did whatever they asked me to paint for 8 years. Then I went on to commissioned portrait work until I moved to Bothell in 1983.  I used Acrylic, gouache, tempera, almost strictly water media. In college a company called "Liquatex" gave us something called acrylics and off I went! I started teaching and demonstrating acrylics at 27 and continued until I came to Washington.
I married at 20 and had 2 children. My 1st husband joined a cult and that ended our marriage. I remarried at 27 and at 40 had a "surprise" who is now 26. During this time my children came first. How many fabulous women artists that chose their children as a first priority will never be known?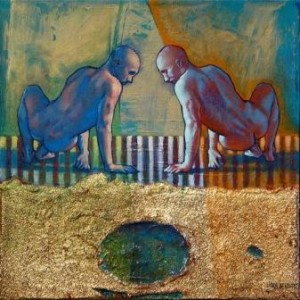 For all those years I used my art to earn a living, it was never just for the joy of it.  I worked for so many years doing what other people wanted me to do, it was like a slow death. So now, I don't care if my work appeals to anyone. I do the subject matter I want and experiment with various processes and media.
I start my oil paintings with acrylic first, it allows me to be quick and gestural. Also it allows me to look for color ideas. It dries very quickly and I can go on to oils. Sometimes the acrylic is working so well, I'll finish with it.
I believe drawing is the most important skill an artist can do to exercise their visual skills. It's the practice before the game, the stretching before a run, so I regularly go to a figure drawing group. An artist's drawing skills is like a litmus test for a representational artist. Most off my paintings are done from photographs. I bring a model in and take many pictures that I can use in different ways, or pose them in the way I need them for an idea. I work directly from my computer in my studio. Gone are the days of having to print out a photo and hope the color and detail will be good. I've had to bring wifi into my studio because so many students are painting from their iPads and computers!
What projects are most challenging to you?
The type of art that challenges me the most is the human form and it is the subject I paint the most. My paintings usually have a singular figure. I guess because I don't want to take anything away from that individual personality. I did a series on women. My friend: an artist fighting a daily battle with colon cancer.  My daughter: the mother of 3 boys.  I represented her as any mother whose son has decided to go to war and must turn away from the boy and see the man, which is so painful. My sister-in-law: a survivor who grew up in LA where gangs were the way of life and who lost a brother to a gang shooting and two siblings to drugs and alcohol. My daughter-in-law: a mother who struggles to balance a personal life and children. The singular figure is so powerful by itself.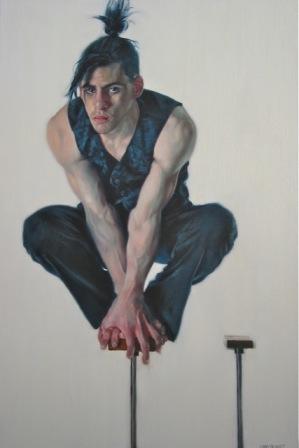 In your interview for Artist's Magazine, you described a visit to an art gallery as "nourishing". Do you also find the process of creating art to be nourishing?
Art is nourishing to me, so much so that if I am unable to create I can go into a depression. The years of raising children were hard, but thank God that at the end of the day, creating was still something I could do!
How has being an instructor enriched your life as an artist and a person?
In 1985, through the generosity and encouragement of several friends, I opened Arts Umbrella Art Studio in Bothell,Washington. I never, for one minute, believed it would still be here 28 yrs later!
Being a teacher is so fulfilling!  "To teach is to learn twice" is something another teacher told me many years ago. Having to guide other fellow artists has made my skills more grounded. Students are the most courageous people I know; willing to venture into areas that are so unknown to them, tackling subjects and persevering.  They amaze me. I can't imagine not teaching. I have a huge group of artists I see every week. They nourish me, they are my friends, it's my community.
Where do you go to find inspiration? What artists do you admire?
All good art totally amazes me, I love looking at it. It's like eating the most decadent dessert, my mouth almost waters! There are so many artists expressing themselves in such individual ways with color, texture, forms and varied processes. I can't imagine a world without this expression. I have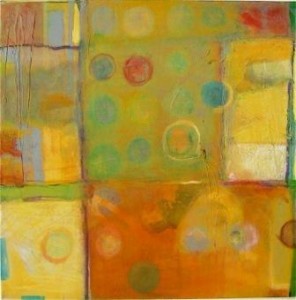 found something that opened my world of art: Pinterest. It enables me to see and be inspired by art from all over the world; an online cork board to collect art and artists. I used to cut out pictures from art magazines and this has totally replaced that.
In the area of abstract art, I have many artists who inspire me. Diebenkorn and Rothko are at the top of the list, but there are so many more.
What are your current and future projects?
I love doing abstract work. It is like an adventure to a land of your own making. I use acrylic and mixed media and start several at a time. I am currently exploring mixing the realistic figure and the abstract background.  I am in a gallery where the owner, Karla Matzke, is an artist and respects my constant artistic exploration.  I am so grateful for her.
Do you have a life philosophy?
In life, I try to be kind, look at each person with understanding and compassion, and have tolerance for our many foibles. Being an artist puts me in a world of fantastic people, I am grateful to be a part of this creative world. I will leave many paintings behind and maybe a small amount of fame. But it will be the time I took to raise kind human beings that will mean more in this world than the finest paintings I could paint.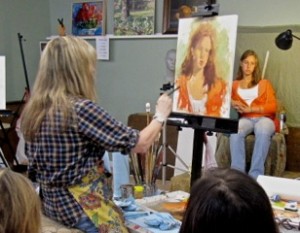 Liana, thank you for speaking to Healing Hamlet and for sharing your talent and the talents of other artists through your Arts Umbrella Studio.
Learn more about Liana Bennett on her website.
View Liana's art at Matzke Fine Art Gallery.