There is something special involved with creating your own interpretation of a scene, object or person.  In my case, each brush stroke takes me along the road toward what I visualized before starting.  Sometime I succeed in portraying that vision –often I don't.  But occasionally  something turns out even better than I had visualized.  Happy day when that happens! Creating and appreciating art in all its forms will enrich anyone's life.
David M. Price was born the year the stock market crashed and raised during the Great Depression in a large farm family in southern Oregon.  He earned a Business Administration degree from University of Oregon before serving 5 years as a pilot in USAF.  After his service in Korea, David returned to college and received another degree in Forest Management.  He worked for over two decades in forest management while raising his family in the state of Idaho.  David now lives with his wife, Joan, in the beautiful San Juan Islands where he discovered his love of painting.  On visits to the island, his three grandchildren enjoy the tales of their grandfather's numerous near-death adventures: from rolling into the hot coals of an open fireplace as an infant (he has the scar on his head to prove it!), to nearly drowning in a stream as a a toddler, to falling off the roof.  But like a cat, he has always landed on his feet, a little tougher than before.
David's landscapes, featuring the beautiful views around his home, places from his past, and scenes from recent travels, have been featured in many venues in Friday Harbor,Washington.  He has had shows at the local community center and the San Juan Community Theater.  I asked David to talk to Healing Hamlet about life and painting.
David, thank you for sharing your stories and your paintings. Your painting career began after retirement. How long have you been painting and how did you get started? What steps did you take to move from novice painter to where you are today?
I retired from my forestry employment in 1985 and moved to San Juan Island in 1989 where we built a modest retirement home designed for two active people. By 1992 with home building completed, I needed something inspiring to do. One son and my daughter were enjoying life as full time, self employed artists. The other son could have done the same had he so chosen. Where did they get all those right brain genes? Their mother has excellent artistic sensibilities, but was it possible that a few stray art related genes might have come from me? A simple start with a few cheap watercolors and soon I was hooked. An occasional class with local artists showed that, at least I was competitive. I gave away paintings to relatives, some of whom actually asked for more. Encouraging! A friend suggested that I sign up for a longer series of classes and the instructor thought I should switch to oils (easier to cover up serious mistakes.) Oils have been my favorite medium since. Persistence! I think it is vital to "hang in there" seeking instruction and support of instructors and fellow students no matter how "awful" you may think your results have been. Staying engaged is the key to artistic progress. I am still almost perpetually enrolled in one class or another.
What advice would you give someone who has always wanted to be a painter but doesn't know where to start?
Just START!! Find a basic course. I don't think selection of a medium is so important at the beginning.  Basic instruction will provide information that will apply to whatever one eventually chooses. However if a choice is available, I suggest a drawing class is probably the best way to start. It's basic to anything else you might do.
Twenty years ago, would you have been surprised by your current dedication to the craft of painting?
Oh, yes. Although I enjoyed making music as a child (piano, trombone) I wasn't interested in producing art. My efforts to portray anything on paper were feeble at best. I believe it was the fast developing artistic skill of my two older children, that produced, not only the curiosity, but the willingness to give "art" a try. And now, when I am compelled to spend time on some mundane chore rather than "splashing paint around", I'm more inclined to "git 'er done" so I can return to doing the fun stuff. It has long since stopped being something I do because there is nothing else to do.
About what percentage of your free time do your spend in your studio?
Well, I do still love to hunt and fish –I have an RV and I enjoy traveling around the western states. I play the piano (badly) from "Fake" books. Most of my hobbies are seasonal things, but while I am at home, I'm very often in either my studio or what I call my "gallery/frame room" where I hang some of my most recent pieces. Incidentally, I do all of my own framing. I pick up pieces of molding or weathered barn wood or driftwood anytime I think it could work as a frame. People give me "stuff"- old tubes of paint, scraps of mat board, left over lumber pieces, old canvases often in need of repair.  But whatever I am doing in my studio, frame room or shop room, it takes up about one third of what might be called my "free time." Free time? Let's just call it "time." It's all free when you're as old as I am.
As an octogenarian, the decades of a well lived life sometimes speak to you through a sore back or stiff knee. You have also dealt with the loss of two siblings over the past year. Have there been times when painting provided a haven for you?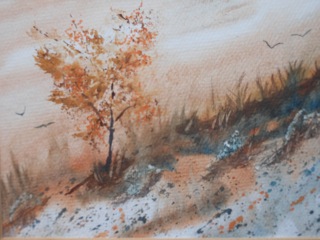 Yes, I must admit that I am "old." I may be plagued with a variety of ailments, stiff joints, nervous twitches, shortness of breath, palpitations and arrhythmic heart despite my pacemaker, metal femur, artificial joints and the handfuls of pills taken on a three times daily schedule, but I have no complaints. My life has been and remains good.  I accept who and where I am without question or remorse. Yes the loss of a very close brother and my only sister this year is sad, but only for a little while. They lived well and for a long time. We never know when our time will come, but we all know full well that it will come. I believe in "healing" quickly and getting on with one's own life.  I paint because I just enjoy doing it –not to shield myself away from sad things that may happen around me.
Where do you find your influences for your artwork?
I find inspiration in my classmates. There are all levels of skill and talent among my fellow students and artist friends. We do actually become like little "groupies", each observing what the other is doing and the progress being made. We support each other. But so far as inspiration resulting from study of "The Masters", I don't often study or refer to anyone in particular. I have enjoyed reading about the early American artists known as the Hudson River Artists and have copied some of the works of Sanford Gifford of that group. So far I am satisfied with efforts to develop my own style, learning by doing rather than attempting to be someone else.
In your island home, you are surrounded by art.  As well as the views of nature outside your windows, there are paintings, drawings and sculptures, created by family, friends and artists you admire.  Could you imagine living without art? How does art enrich your life?
In my view there is no way one could possibly live a life devoid of art — it's all around us all the time. You couldn't avoid it if you wanted to. I just drove home from town, enjoying the billowing cumulus cloud formations over the distant Cascade Mountain Range. The late afternoon sun was reflecting rosy tones over the water and the trees on the horizon line on a nearby ridge stood out in stark silhouettes.  Everything touched by the golden rays of the sun was warmed, contrasting with the cool, dark cast shadows beyond them.  Art is not only what one can hang on the wall or that which can be molded by human hands.
As an outdoorsman, all my life I've enjoyed the natural beauty provided at no cost by Mother Nature.  And now, in retirement, I do live in one of the most beautiful places on earth. I don't mean to ignore the fact that I live and work with many talented artists who have come here for the same reason I selected this place.  My walls and bookshelves are adorned with the art of my children and grandchildren.
There is something special involved with creating your own interpretation of a scene, object or person.  In my case, each brush stroke takes me along the road toward what I visualized before starting.  Sometime I succeed in portraying that vision –often I don't.  But occasionally  something turns out even better than I had visualized.  Happy day when that happens! Creating and appreciating art in all its forms will enrich anyone's life.
Anything else we should know about you?
I don't consider myself to be an artist—I'm a proud American citizen who paints; a retired forester who paints; an ex fighter pilot who paints; a faithful husband, proud father and devoted grandfather who paints a lot. Whatever I may be doing, I'm either doing it because it needs to be done or because I enjoy doing it. Painting is in the latter category and I look forward to many more years of it.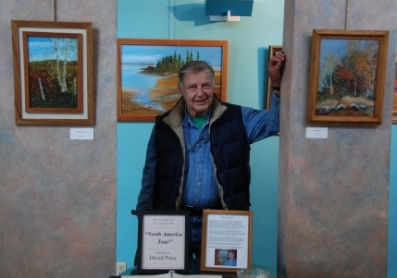 See more paintings by David M. Price, Sr on his website: GratefulGeezerArts.Etsy.com