A Novel by Brady Udall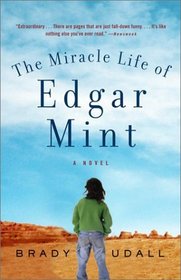 If I could tell you only one thing about my life it would be this: when I was seven years old the mailman ran over my head.   As formative events go, nothing else comes close; my careening, zigzag existence, my wounded brain and faith in God, my collisions with joy and affliction, all of it has come, in one way or another, out of that moment on a summer morning when the left rear tire of a United States postal jeep ground my tiny head into the hot gravel of the San Carlos Apache Indian reservation.
With this unbelievably horrendous event, we are launched into the miraculous life of Edgar Mint, born on an Apache Reservation and abandoned to a hospital at age seven.  Alone in the world with only a blue urinal cake to rub for comfort, Edgar endures and survives life's adversities with hope, humor and an astonishing absence of bitterness.
Learn more about The Miracle Life of Edgar Mint and Brady Udall on his author page.