Laurie Halse Anderson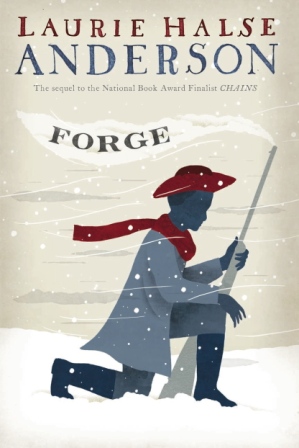 An escaped slave enlists as a soldier and struggles with his regiment to survive the bitter cold winter of 1777-78 in Valley Forge.  Still a teen, Curzon must endure days without food, disentegrating boots, disrespect and mistreatment by his fellow soldiers.  He is fighting for the freedom of people who will not recognize his own rights, and who intend to keep loved ones enslaved.  The British, he has heard, have promised to free any slaves who fight for their side.  But in the harsh conditions of the Valley Forge military camp, Curzon discovers friendship, loyalty and the strength to pursue his dreams.
More about Forge at Goodreads.
Learn more about Laurie Halse Anderson.